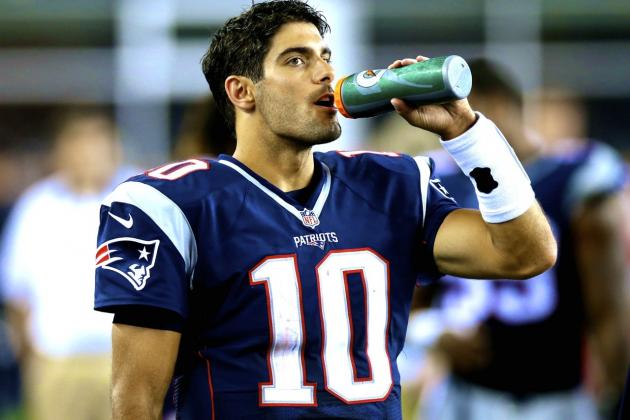 In the NFL, it doesn't matter which players a team has as long as they have a starting quarterback. Not every team is blessed with having a consistent, starting quarterback across multiple seasons. And even fewer are blessed with a premier passer. This offseason may provide a cure to one of those unlucky teams, and its name is Jimmy Garoppolo. The former second round pick from 2014 has become potentially one of the best steals in this year's free agency, if he can go for the right price.
With Tom Brady serving a four game suspension the Patriots had to rely on their former second round pick from 2014, Jimmy Garoppolo. Garoppolo performed how many expected him to do in such a successful system; he was able to thrive against two weaker, albeit one playoff, teams before suffering a minor injury which brought in their third string signal caller.
But in those first two games, Garoppolo put up over 500 yards and four touchdowns without throwing an interception. But beyond the stats, his game looked good. He stood in the pocket well and made incredibly well-timed throws, which is surprising to see out of a backup especially one who gets so few options to show his abilities.
Teams in need of a young quarterback were exposed to an affordable and lower risk option than one in the draft. Garoppolo provides an immediate improvement to nearly a third of the NFL, with the only real price coming in what a team is willing to give up to get him. Early reports are that the Patriots are looking for at least a first round pick or, while it may be more unlikely, a swap between first round picks.
This isn't to say that there is no quarterback talent in this year's draft. Mitch Trubisky, Deshaun Watson and Deshone Kizer all are hovering around as prospects for the first two rounds. Below is a blind table of some career passing stats of all these players.
| Quarterback A | Quarterback B | Quarterback C | Quarterback D |
| --- | --- | --- | --- |
| 386 completions 572 attempts | 814 completions 1207 attempts | 1047 completions 1668 attempts | 422 completions 695 attempts |
| 67.5% completion percentage | 67.4% completion percentage | 62.8% completion percentage | 60.7% completion percentage |
| 41 TDs 10 INTs | 90 TDs 32 INTs | 118 TDs 51 INTs | 47 TDs 19 INTs |
| 3 years | 3 years | 4 years | 2 years |
So who's the best option? Obviously collegiate stats only tell a small story, but many GMs tend to go with the experience and the overall production. Quarterback A is North Carolina QB Mitch Trubisky. Quarterback B is Clemson QB Deshaun Watson. Quarterback D is Notre Dame QB Deshone Kizer. And QB C is current New England QB Jimmy Garoppolo. Garoppolo's biggest knock going into the 2014 NFL Draft was the concern of lack of opposing talent in college. But these concerns have at least been halted with his performance in both the preseason and the beginning of the 2016 NFL season.
The biggest concern now is value. Would it make sense for an NFL general manager to trade away a first round pick for a player who has only started two regular season NFL games? The issue is that people tend to look at first round players as if they'll automatically do well. Between 2005 and 2014, there have been 25 quarterbacks drafted in the first round:
2005
Busts: None
Still playing well: Alex Smith, Aaron Rodgers
2006
Busts: 2- Vince Young, Matt Leinart
Still playing well: Jay Cutler
2007
Busts: 2 – JaMarcus Russell, Brady Quinn
Still playing well: None
2008
Busts: None
Still playing well: Matt Ryan, Joe Flacco
2009
Busts: 2 – Mark Sanchez, Josh Freeman
Still playing well: Matt Stafford
2010
Busts: 2 – Sam Bradford, Tim Tebow
Still playing well: None
2011
Busts: 3 – Jake Locker, Blaine Gabbert, Christian Ponder
Still playing well: Cam Newton
2012
Busts: 2 – Robert Griffin III, Brandon Weeden
Still playing well: Andrew Luck, Ryan Tannehill
2013
Busts: 1 – EJ Manuel
Still playing well: None
2014
Busts: None
Jury still out: Blake Bortles
Still playing well: Teddy Bridgewater
14 busts. One still inconclusive. 10 playing 'well'.
Why should a GM tie themselves to a player for four years who, in recent past, is more likely to hurt the franchise than help it. NFL coaches and GMs are in a position where if they don't win immediately, then the ownership and the fan base looks to make a change. Some teams only give a coach/GM one draft to get it right, and in the last decade over 50% of the first round quarterbacks are widely considered to be busts. It is hardly any worse to trade for a potential franchise quarterback with more upside than drafting one in a year lacking any premier franchise quarterbacks.
Looking at the finances, Garoppolo is still on his rookie contract for another year. This means that if another team does trade for him, they are not necessarily required to lock him to a long term deal. This allows the team to have a show-me type deal, similar to what Washington did this past season with Kirk Cousins, but at a salary cap hit of around $820,000. Signing a rookie requires a four year deal at around $10-20 million depending on when they were drafted.
Is it fair to base a head coach and GM off of one player or one draft? Teams require them to get it right the first time around, so they are forced to take a risk. So if these low teams are going to take the risk, it would be a better situation to trade a first rounder for a player with real NFL experience instead of drafting a player who could harm the franchise in both the depth chart and against the salary cap. Let's move on from the madness of trying to find a franchise quarterback in the draft, and realize that trading for one may actually be the smarter move.